About Our Custom Made Floor Decals
---
Our Floor Decals are made from vinyl and are applied with an adhesive backing that is designed specifically for indoor uses.  They are strong enough to last 3 – 5 years with proper care and are easily removed for up to one year after application.  One of the excellent features of our floor graphics/decals is that they are slip proof so you do not have to worry about accidents as a result of large floor decals.   The most important thing about our decals is that there is a laminated covering to keep them looking bright and clear for the duration of the usage.
Let's run through the most common places in which floor decals/graphics are used and for what purpose.
Retail and Restaurant Floor Graphics – Sales, Promotions and Special Offers
---
The most common setting that you would see floor decals is in retail settings. Whether the retail setting is part of a large shopping centre or a Pop Up Business, floor graphics offer a versatile signage solutions for many retail shops.  Uses can include summer sales through to January sales and back to school sales.  The season kicked off by Black Friday with the majority of retail shops offering discounts, sales and promotions.  Floor decals would be a very common usage for these type of promotions.
Floor decals can accomplish several things. First and foremost to purchase signage that is affordable and short term or long term promotions.  Floor decals are an effective signage solutions due to the fact customers often become "blind" to the traditional type of promotional tactics.  Floor decals catch consumers attention and have leave a huge impact on the success of a promotion or special offer.  Furthermore, they are a great temporary signage solution that are easy to apply, remove and an excellent choice for small and big retailers looking to advertise upcoming sales events.
Restaurants can also use floor decals to effectively promote their business and special menu promotions. For example, restaurants located in busy shopping centres can direct customers to their locations and use floor decals to catch the attention of visitors to the centres.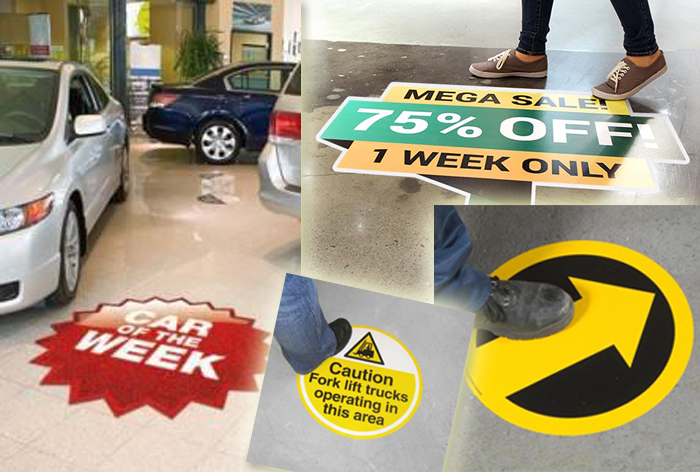 Commercial and Manufacturing Warehouse Areas – Health & Safety
---
Another common use of floor decals is in commercial and manufacturing warehouse settings. These areas are often extremely busy environments with many moving parts and due to the machinery and operations can be dangerous environments.  Some may also have forklifts, chemicals and hazardous materials.  The employees usually wear protective clothing and are regularly trained in health and safety practices.  Signage is a number one priority in such settings and has proved to be beneficial.
Floor decals in a manufacturing setting can indicate walking paths, hazardous areas, restricted access, forklift speed limits. Floor signs work very well in these settings and can be reconfigured depending on changes.  For example, production areas that accommodate additional seasonal staff often use floor decals instead of permanent floor paint so that there is no confusion within the zone.  This helps with safety but also improves productivity.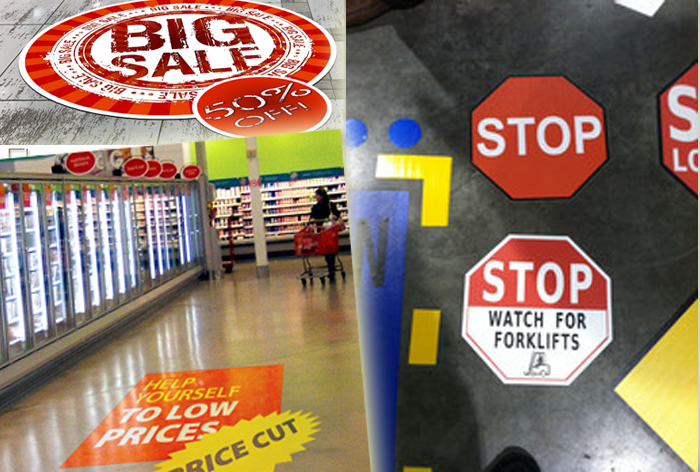 Trade Shows/Events, Schools & Colleges, Sport Stadiums, Airports and Directional Uses
---
The most common use for floor decals is for directional proposes. From Trade show events, sports stadiums to schools at all levels often use floor decals for directional purposes.
More permanent type directional uses of floor decals in these settings can help with the flow of foot traffic, direct visitors to bathrooms, food areas and information centres.
Temporary usage of floor decals can be used for example in buildings or facilities that have been reconfigured for one off events or forecast larger than usual crowds for anything from a school play to a weekend sporting event and more. College campus visits by prospective students who are touring the facilities can be successfully run by using removable floor decals that direct students around an unfamiliar facility.
Floor decals are extremely versatile, effective and affordable signage solutions for a variety of situations and settings. Whether you need a plain directional decal or a more detailed and cut to shape decal we're happy to help.  Check out our floor decals or contact us today.
Contact Sign Solutions on (0402) 29951  – email: info@signsolutions.ie – www.signsolutions.ie