Is your business in darkness this winter?
One of the best ways to improve your signage is lighting.  Whether you wish to illuminate an existing sign or create a new sign, there are many options to choose from and to suit every budget.
Illuminate your outdoor signage with options like Light Boxes, High Glow LED Lighting Signs, Fret Cut Illuminated Signage with High Glow Halo Illumination.  Our exterior signage products are internally illuminated by high glow, low running cost LEDs that will give maximum impact to your current and future customers after dark.
Lighting/Illuminated Sign Options
The most common illuminated signs are full colour high glow LED Illumination graphics and picture display signs.  Here are some of the most common Illuminated sign options
Illuminated Displays – Blacklit
This is an easy way to creatively display things like your business's logo or message.  Backlit displays are great for shopfronts,  medical and dental centres.

LED Signs
LED Signs can be easily seen at night and give your business a high glow presence.  Our exterior Illuminated LED Signs include exterior channel letters, wayfinding signs, outdoor direction signage, dimensional letter, as well as LED Display systems.  These LED Signs are energy efficient and will get your business noticed day and night.
Light Box Signs
Businesses can use light boxes to create vibrant, eye catching displays.  These are most effective when presenting dramatic visuals and important information.  They are great in retail settings, airports, dental and hospitals as they allow your business to integrate words and images into exciting backlist arrangements.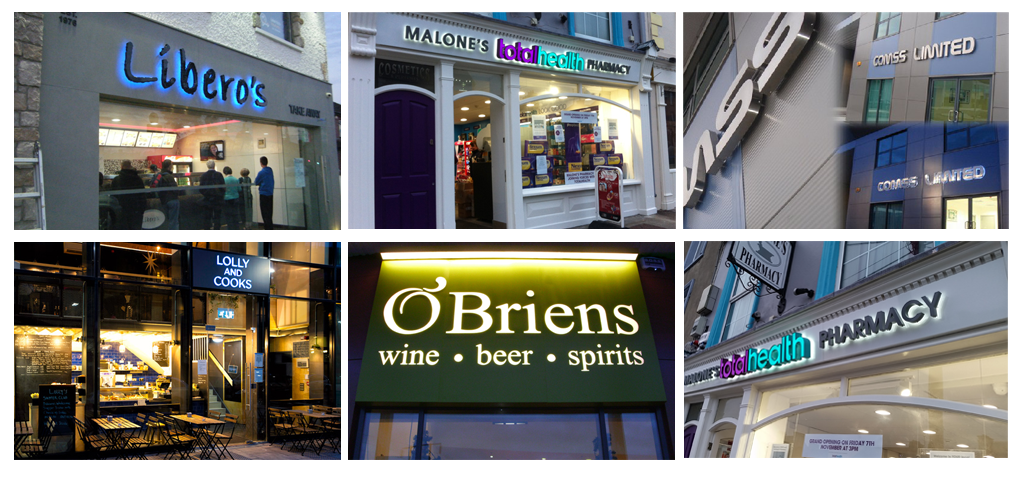 Interior Lighting Signs
Interior LED Lighting Signs will actually brighten the display as customers walk past.  It is really an easy sell because people will look at your signage but aren't sure why – and it's because it suddenly brightened.
Materials
Consult with a signage professional to pick the materials you want for your business sign.  If your sign is outdoors, it will need a lighting system to withstand different elements, depending on the location.  Depending on the type of illuminated signage you intend to choose, showcase the best signage possible.  Get on board to brighter advertising for your business with Illumination for your signage!  Sign Solutions has the expertise and the latest products and equipment to manufacture in-house, so when you need interior or exterior Illuminated signage, trust us to provide a well-engineered high quality product.
Contact Sign Solutions on (0402) 29951  – email: info@signsolutions.ie – www.signsolutions.ie