Sting, international musician, singer, songwriter, actor and his wife Trudie Styler's "Sister Moon Wine" has been named as one of Italy's finest 100 wines, placing him alongside centuries-old aristocratic winemaking dynasties such as the Frescobaldi and Antinori families.
The travelling caravan has been designed to create a welcoming atmosphere for wine lovers from all over the world as they stop to taste Il Palagio wines and learn more about the Tuscan estate and winery during Sting's concert tour. Sign Solutions were honoured to be chosen to fit the beautiful graphics. We worked closely with our clients and together with our highly trained graphic designers, consultants, manufacturers and installers achieved these high quality vehicle graphics to our customers satisfaction.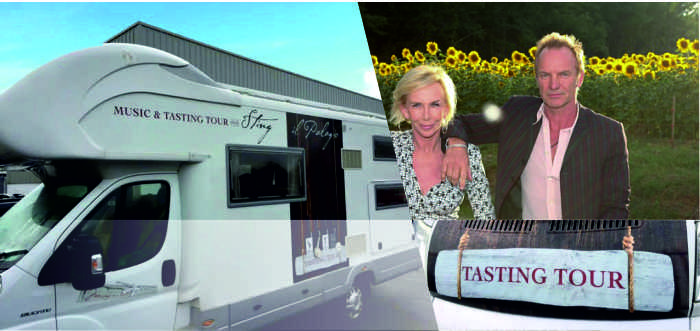 Il Palagio, the winery owned by world renowned singer Sting and his wife Trudie Styler is set above the picturesque Tuscan town of Figline Valdarno amid the rolling hills of the lush, fertile Tuscan countryside south of Florence. It has been the summer home for Sting and Trudie's family for the last two decades, and the setting for many of their intimate parties and private concerts. The 900-acrea estate, its guesthouses, lakes, tennis courts, hiking trails, vineyards and olive groves, has been lovingly restored by Sting and Trudie, and is a vibrant and fully functioning organic farm and winery.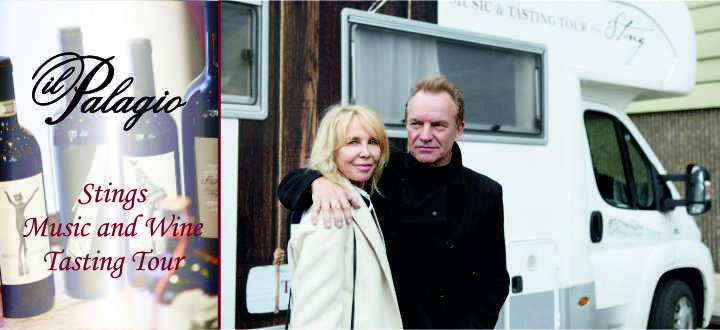 Growing up around the shipyards of Tyneside, where a pint of Newcastle Brown was regarded as the drink of choice, Sting has now managed to impress the rarefied world of Italian wine connoisseurs. Not bad for a working-class boy who didn't taste his first glass of wine until he was in his twenties! He is the first to admit that he once knew nothing about the fine art of viticulture.
"I was doing shows and the promoters would often give me a bottle of wine as a gift. Since I knew nothing about it and because I didn't drink wine, I'd give the bottles to my roadies." and sometimes performs music in the cellars, just to give the fermentation process a little encouragement!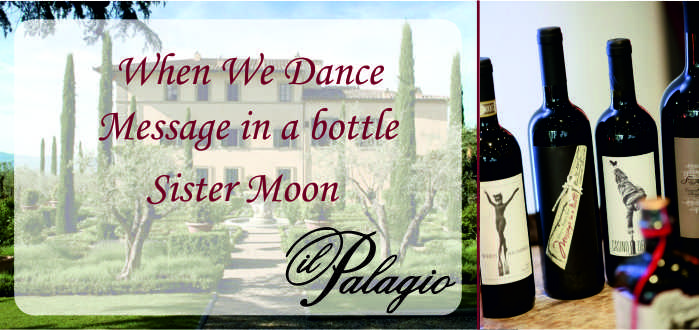 The musician and environmental activist produces four reds on the estate, three of which are named after his songs – Sister Moon, When We Dance, which is a blend of Sangiovese, Canaiolo and Colorino grapes and – inevitably – Message In a Bottle.
The fourth is called Casino delle Vie.
When not travelling or performing, he lives on the estate with his wife, actress and film producer Trudie Styler, and their children.
A blend of Sangiovese, Merlot and Cabernet Sauvignon grapes, Sister Moon has an alcohol content of 14.9 per cent and was matured for two years in French oak barrels.
"We're very proud that the wine has been recognised," he told Corriere della Sera, an Italian newspaper. "It's full-bodied, with hints of black pepper, liquorice and blackberries."
The traveling caravan will now travel together with Sting to accompany his European tour of 57th and 9th World Tour which will be held in cities like Hamburg, Zurich, Luxembourg, Brussels, London and Paris.
Happy wine tasting to you all and keep an eye out for the "message in a bottle".